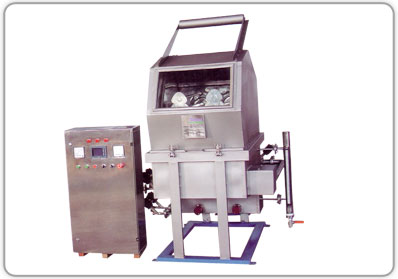 HDS
Automatic spray type Hank Dyeing Machine(HDS). This HDS Model Dyeing Machine has been specially designed for dyeing of yarns in Hank form including wool, soft mercirized and Cotton, Visose, Polyamide, Silk and high bull acrylics.
The HDS is designed to dye at temperature of up to 98° and starting liquor ratio of 1:5 depending on the loading and yarn Quality.

Technical Features
« Made up of SS316 grade Quality.

« Large hinged hood for easy opening and for the easy excess to each arms.(pneumatic operated is optionl)

« High efficient Circulation Pump made of SS316L with Electric Motor and mechanical seal.

« Mirror polished perforated tubes with dish shaped front and rear disc for hassle free movement of the yarn.

« Rotating hank displacing pipe is fit with Teflon bushes.

« A pair of rotaing gears are made up of nylon which are driven by comman geared motor.

« Inclined roof of special design, hence no dripping on the hanks.

« Geared motors for each pair of arms so that it can switched off when dyeing smaller lot and moreover if one motor gets broke down, the others are still running, thus saving the time & production loss.

« Manual controlled butterfly valves at each tubes inlet in order to regulate the flow and thus possible to disconnedt any arm for smaller lot and it also ensure consistent even dyeing between the hanks loaded on different arms.

« AC inverter to control the flow of the liquor in order to maintain the required pressure.

« Specially designed steam coil for quick heating with pneumatic operated vavles and steam trap.

« Chemical dosing tank in SS316 quality.

« Perforated removable filter.

« Manual controlled water inlet and drain.(pneumatic operated is optional)

« Limit switch on the opening hood for the operator safety.

« Magnetic Bi-boloured water level indicator.

« Spot light inside the machine for inspection of material.

« Dial pressure gauge to keep the ckeck of the flow.


S.S. Electrical Control Panel.
Control panel consisits of:
1. Digital temperature programmer & indicator.
2. Indicators & Switches clearly marked with individual operation.
3. Protection devices for the motors.
4. Electonic Circuit to permit 2-7 cycles of shifter Rotation.
5. Times for liquor Circulation.

Option
Full Auto or Semi-Auto with PLC & Touch Screen & A/C Drive for main pump.

PARAMETER
« Highest work temperature 98°C.
« Maximum Temperature in cremental ratio:50°C/min(under 7 bar of saturated steam)
« Maximum cooling ratio: 40°C/min(under 3 bar cooling water. 25°C).

Specification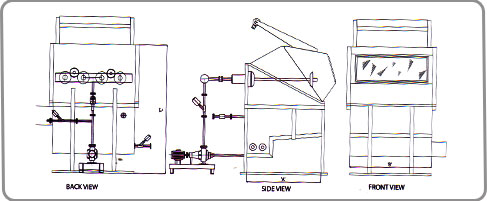 Model

No. of Tubes

Capacity (K.G.)

Total Power (H.P)

Dimensions mm

L

W

H

HDS-VS

1

1Kg

1.25

990

1540

2640

HDS-M

1

2Kg

1.25

990

1900

2640

HDS-1

1

5Kg

1.75

990

2500

2640

HDS-2

2

10Kg

2.5

1280

2500

2640

HDS-4

4

20Kg

4

1840

2500

1840

HDS-6

6

30Kg

6

2630

2500

2630

HDS-10

10

50Kg

10

4250

2500

4250

HDS-20

20

100Kg

20

6520

2600

6520

HDS-30

30

150Kg

30

9310

2750

9310

HDS-40

40

200Kg

40

12950

2750

12950

HDS-50

50

300Kg

50

18800

2900

18800

Note
« In the list above, whole length about poision mark to rod is 1200, and this dimension could be made to order in the scop of 600-1500mm.
« The amount to the speay tube listed above can be made to order.
« All models and also be coupled for higher capacities.